Check List for the Customer
What do you want out of your vehicle? Where do you ride Desert, Sand, Mud, Hunting, Etc.?
How Many Passengers are in the Vehicle when you want it to Perform to its Potential?
How Much Cargo do you Carry and if Hunting - Possible Weight Added?
What are your plans for Adding Accessories, Change the Roll Cage, Bumpers, Spare Tire, Cooler, Tools, Extra Battery, Seats, Stereo, 2-Way Radio, or Just Bling - You get the Idea? This is HUGE - This all Adds Up FAST....
Springs come First
Springs, Sway Bars, and Tires and even Tire Pressures are way more Important than you can Imagine!
Springs, Sway Bars and Tires are Really the Suspension and a HUGE part of the ride Comfort of your Vehicle. The Shocks and Shock Valving is just a way to TUNE the Suspension and all of this needs to be dialed in before you chose your Shocks and Valving. Even your choice of Tires and Tire Inflation is HUGE in the Handling of yor Vehicle.
Before Suspension Tuning Begins a few more deciding factors come into play, what have you added for weight on your vehicle or what do you plan on adding in the future. Let me give you an Idea of added weight that most people don't take under concideration.
We tuned the Springs on a brand New 2016 Polaris RXR XP 4 seat Turbo in Feburary 2016 and the customer dropped it off and he had told us it was brand new and totally stock. At first it looked stock - BUT - they had added a Front Bumper, Rear Bumper with Spare Tire Rack and Side Bars - Some People call them Nerf Bars! This added 187 pounds to the vehicle which in Therory would make this Polaris 4 Seater a 5 Seater in Weight. So will his Spring Rates be Different from a 4 Seater - Depends again on more factors. Here is a list of a few things we ask before Tuning the Suspension for our Customers.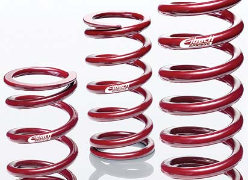 Shock Valving Goal
Before we Start - We ask all these questions above and make a Customer Check List, making sure the Springs and Sway Bar (If Applicable) is Correctly Setup for your Driving Habits and Pleasure.
Ride Comfort - Plush Ride for Passengers and the Life of your Machine.
Bottom Out Protection. Take on G-Outs and Jumps without Bottoming Hard.
Whoop De Doo's - Who doesn't Like Whoops?
Making sure the Springs and Sway Bar (If Applicable) is Correctly Setup for your Driving Habits and Pleasure.